Toxic pollution and links to the arms trade – not all solar panel suppliers are ethically sound. Simon Birch offers some consumer guidance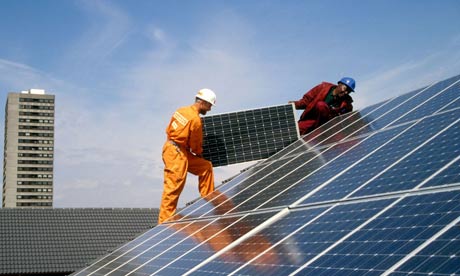 An investigation by Ethical Consumer magazine has identified solar panels that are ethically sound. Photograph: Alamy
With the government offering to pay you – and some companies even offering to fit them for free – you may be considering installing solar photovoltaic panels on your roof. But if you are, would you really want to buy one from a company that's been responsible for one of the biggest recent environmental cock-ups on the planet or one that's up to its neck in the arms trade?
No of course you wouldn't. To help shoppers navigate this particular ethical-minefield in its latest buyers' guide, Ethical Consumer magazine has identified those solar-power panels that you can stick on your roof with a clean conscience and those that you may just want to leave on the shelf.
The best buys are GB-Sol, Solarcentury, SolarWorld and Yingli Solar.
We found that the industry is dominated by three key issues. The first of these are what we call controversial activities. For example, as well as redecorating the Gulf of Mexico with millions of tonnes of oil, BP also laughingly now makes solar-power panels. It will come as no great shock then that BP came bottom in our table.
It is perhaps less well known that a number of solar-power panel companies are heavily involved in the defence industry. Mitsubishi supplies everything from computers to satellites to the military around the world. While Romag supplies glass products to both the Israeli defence force and the Singapore army.
Since the manufacture of solar-power panels involves the use of hazardous materials, toxic pollution is another key issue.
In 2008 the Chinese company Luoyang Zhonggui High Technology, which makes polysilicon for solar-power panels, was accused of dumping toxic waste outside its factory. The same company was reported to be a supplier of one of the companies that we surveyed in our buyers' guide.
Finally given the toxic nature of the manufacturing process of solar-power panels, it's vital that the workers involved are adequately protected and aren't exposed to undue health risks. Disappointingly the vast majority of the companies that we surveyed failed to guarantee that such policies were in place. The result was that virtually every company we surveyed received a bottom rating for their supply chain policy.
The one notable exception was perhaps surprisingly, the Chinese company Yingli, which scored a middle rating because it is alone in adopting an internationally recognised management system for protecting workers' rights, the SA8000.
As consumers we have a vital role to play in helping to drive sustainable manufacturing within the solar-power panel industry by choosing the best-performing companies.
When it comes to to getting your solar-power panels fitted you won't be buying directly from any of the companies that we surveyed. Instead the system will be installed by a company approved by the microgeneration certification scheme.
These companies will probably offer you the choice of one or two different systems but if these are from dodgy companies and you don't want to use either of them, stick to your principles and insist on a more ethical option. The chances are that the company will ultimately agree and if not, don't worry as the market is now growing so rapidly that you'll easily find an approved installer who'll fit the solar-power panels of your choice.
The sun will indeed shine on the righteous – and the ethical.
• Simon Birch writes for Ethical Consumer Magazine.